A car breakdown is one of the things drivers dread the most, especially if you are in a rural area.
Fortunately, there are signs you can look for that will help you avoid breaking down and needing to call a tow truck.
So what are some of the common causes for your car breakdown?
1. Flat battery
One of the most common causes for a car breakdown is a flat battery.
Have you left your car lights on? Don't take long journeys in your car very often? These can cause your battery to go flat.
If you don't use your car very often, you may wish to charge your battery in between uses.
Otherwise, you may prefer to get your car serviced prior to going on a long roadtrip.
2. Damaged tyres
If you're on a roadtrip and run over a sharp object or hit a pothole, you may end up damaging your tyres.
Are your tyres under inflated? This can cause your car to overheat. Always make sure your car tyres remain at the correct pressure. If you find your tyres are struggling to keep the right pressure, there may be a problem with the tyres such as a puncture, and you may need to get new tyres.
If you are going on a roadtrip, especially a rural roadtrip, you may wish to consider taking a spare tyre with you.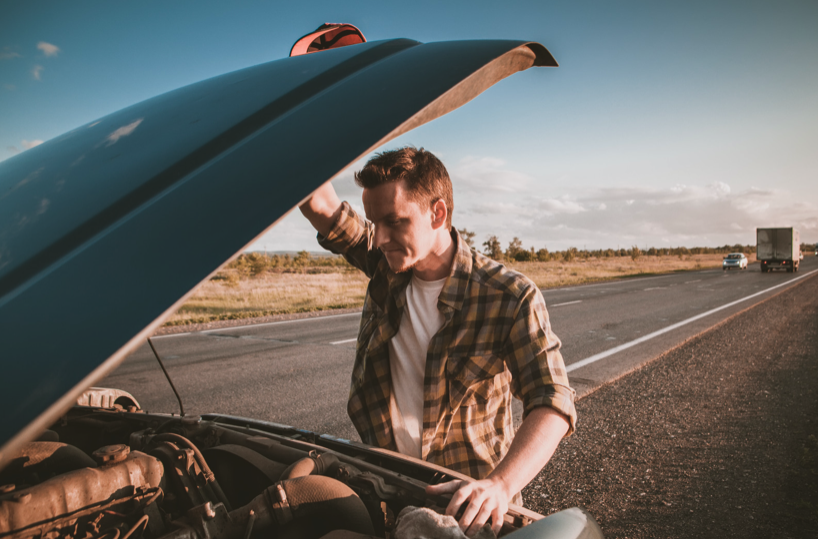 3. Using the wrong fuel
When refuelling, always make sure you use the right type of fuel for your car. Filling your car with the wrong type of fuel can cause numerous mechanical problems, which can result in a car breakdown.
If you are driving a rental car, make sure you double check what type of fuel it uses before you leave.
4. Burnt out clutch cables
Whether accidentally or not, many people will end up overusing their clutch. As a result, burnt out clutch cables are one of the most common causes of car breakdowns.
Have you noticed the feel of your clutch pedal has changed? This can be a sign that the clutch cables are damaged or burnt out. If you have any doubt, make sure to visit your local mechanic, who will be able to check the clutch cables for you.
5. Oil leaks
Your car depends on oil to lubricate parts of the engine. Without oil, engine parts will grind together and damage the engine, causing a breakdown. If this happens, you may need to end up replacing the engine or parts of the engine.
To avoid this occurring, make sure you routinely check the oil levels. You can do this by using a dipstick. This is particularly important if you have an older model of car, where the light on the dashboard may display with not enough time to reach the mechanic.
Following these tips will ensure that you can avoid your car breaking down and enjoy your roadtrips.
Do you need to get your car serviced? Make an appointment today with Moranbah Discount Tyres & Mechanical.