2018 RIN AWARDS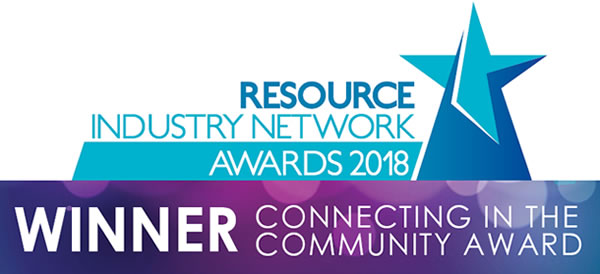 The Annual RIN Awards serve to recognise and acknowledge excellence in business and the significant contribution that businesses make to the regional economy and community.
The 'Connecting in the Community Award' is awarded to the organisation that best demonstrates how they successfully engaged with the community or external stakeholders.
2018 Winner 
Moranbah Discount Tyres & Mechanical!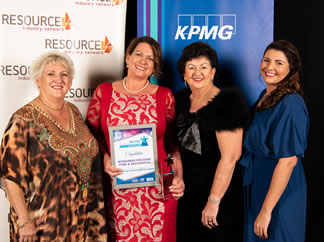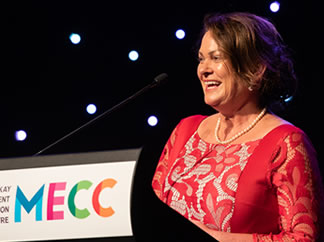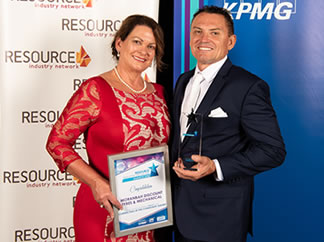 2017 MTA AWARDS

Overall Business Excellence Award 2017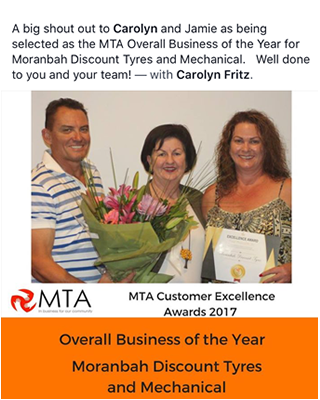 Customer Excellence Award 2017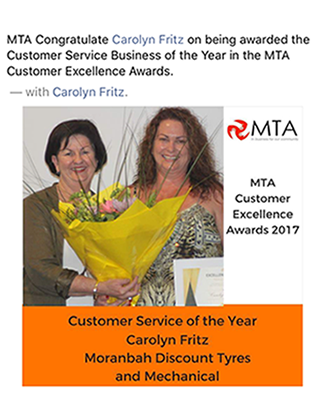 Overall Business Excellence 2016 WINNER
This business is outstanding on many levels & the judges were thoroughly impressed by its strategic & business planning capabilities that has seen it spear-head expansion & diversification in challenging times.
Carolyn & her team are at the forefront of retail innovation & have demonstrated business acumen by expanding their product & service offering.
Their vision to bring the city to the bush has galvanised their position as a leading service provider & their proactive approach will see them embark on many new & unique business opportunities.
What sets this business apart is its commitment to developing its own people. The many and varied training opportunities, apprenticeships and traineeships demonstrate exemplify this.
And of course, underpinning their operational success is the exceptional customer service which continues to guide its strategies & planning; as we heard client case managers & complimentary add-on services are a testament to this.

Retail Service Sector 2016 WINNER
This business demonstrates a real passion and pride for Moranbah.
Their focus on outstanding customer service is integrated throughout their business and the service delivery cycle.
Moranbah Discount Tyre and Mechanical is an outstanding business on many levels and the management and directors are to be congratulated for their innovation, continual improvement and commitment to growing the business community of Moranbah.
Bring the city to the bush, isn't just marketing for this company it is a key strategy and will underpin the future development of this business and Moranbah.
Congratulations to Carolyn and the team.

Innovation 2016 WINNER
Remarkable product and marketing innovation makes Moranbah Discount Tyres and Mechanical the well-deserved winner in this category.
This business has grown from strength to strength over the past three years in a tough environment but with an unshakable belief in Moranbah has achieved a long list of achievements including:
• an Australian first by securing a Repco Service and Spare Parts Centre co-located on their premises,
• bringing the City to the Bush by offering Ironman 4X4 products and actually selling back to Mackay and Emerald and
• having the vision to establish an Automotive Hub here in Moranbah which will grow the town as an automotive service centre for the whole Bowen Basin.
Together these achievements will not only benefit this business but will grow the whole business community as people do their servicing (and shopping) locally instead of driving out of town. Congratulations to Carolyn and her team for this well-deserved win.
The judges would like to acknowledge the exceptional contribution Moranbah Discount Tyres & Mechanical has made to the local community & congratulates them on their success.
EARLIER AWARDS
Winner of Excellence in Business Service Award for Manufacturing & Mining Services. 2011 & 2012
============
MTA Excellence in Business Services Award for Best Trade Service. 2009, 2011 & 2012
============